Calendar
February, 2008 Meeting: Adam Mann: 2007 Herp Inventory in W. Kentucky WMAs.
| | |
| --- | --- |
| Date: | February 6, 2008 |
| Time: | 7:00 PM |
| Location: | Cincinnati Nature Center, Rowe Woods directions |
Adam Mann is a wildlife biologist for Environmental Solutions and Innovation, Inc. (ESI), which is a small environmental consulting firm located right here in Cincinnati. Although his company most deals with endangered species issues (especially bats), they occasionally are able to conduct general inventories for herps or other animals on specific land tracts.
In the spring of 2007, several GCHS members participated in a herpetological inventory of two separate Wildlife Management Areas in Western Kentucky, in habitats that often provide many interesting species. This was a great opportunity for GCHS members to take a weekend trip, get out into the field and get involved with science and conservation. Using handheld GPS units and digital cameras, GCHS members documented various herp, mammal, and bird species over the weekend. A good time was had by all. For his presentation, Adam will provide a summary of the survey results and share some photographs.
Adam and his wife Melissa are wildlife biologists from Northern Kentucky. They both obtained their undergraduate degrees at Thomas More College and their Master's degrees in the Herpetology Program at Marshall University. Adam works for ESI and also helps care for the live animal collection at Covington Catholic High School. Melissa coordinates public education programs for ORSANCO and teaches AP Biology Lab to high school students. Adam and Melissa enjoy public speaking, having taught scientific laboratories in a classroom setting and given educational lectures that promote the understanding of native wildlife. Their personal interests include conservation and care of native herps, wildlife research, and enjoying the outdoors.
Here are a few photos of Adam and Melissa in the field and with herps:
Adam with Snapping Turtles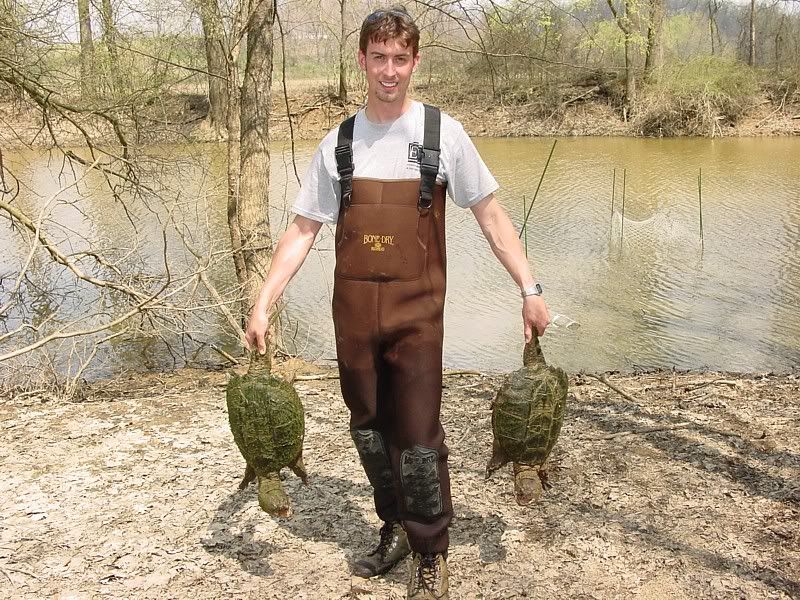 Adam and wife Melissa with rat snakes

Adam in field with Black Rat Snake