Calendar
GCHS HOLIDAY MEETING- Jeff Davis
| | |
| --- | --- |
| Date: | December 5, 2007 |
| Time: | Dinner begins at 6:30 p.m. Meeting begins at 7:00 p.m. |
| Location: | Golden Corral -Ft. Wright KY (see below for directions / map) |
We are pleased to announce that the speaker for the Holiday, 2007 meeting will be Jeff Davis. Jeff?s presentation will be -
?The Eastern Massasauga, an Ohio Endangered Species?.
The holiday event has traditionally drawn a large group, for good food, fun and education. The back room of the restaurant is reserved for the GCHS from 6:30 on.
The 2007 GCHS Holiday Meeting will be held at -
Golden Corral Restaruant
488 Orphanage Rd,
Ft Wright, KY 41017
Following are the dinner prices:
Adults (13 and up) - $9.89 + $1.79 for a drink
Children 8-12 $4.99 drink is included
Children 4-7 $3.99 drink is included
Children 3 and under are free

The meals are all-you-can-eat.
There is a large varitey of salad, dinner and dessert items.
Pay for your meals at the door. Tip is not included.
Map to the Golden Corral, for directions, click on get directions
"to here", and enter your address and zip
View Larger Map
Speaker Presentation Details -
Jeff Davis -
?The Eastern Massasauga, an Ohio Endangered Species?.
In March of 2007, 19 dedicated GCHS members contributed a day of their time and labor to clear a native Ohio habitat for this animal and we are pleased to announced Jeff Davis has discovered immediate results! Hear more at Jeff's talk.
Learn about this endangered species of rattlesnake that is rare in Ohio but still occurs within about 50 miles of the Cincinnati area.
An Eastern Massasauga as photographed in Ohio in the field... (photo by Jason Folt)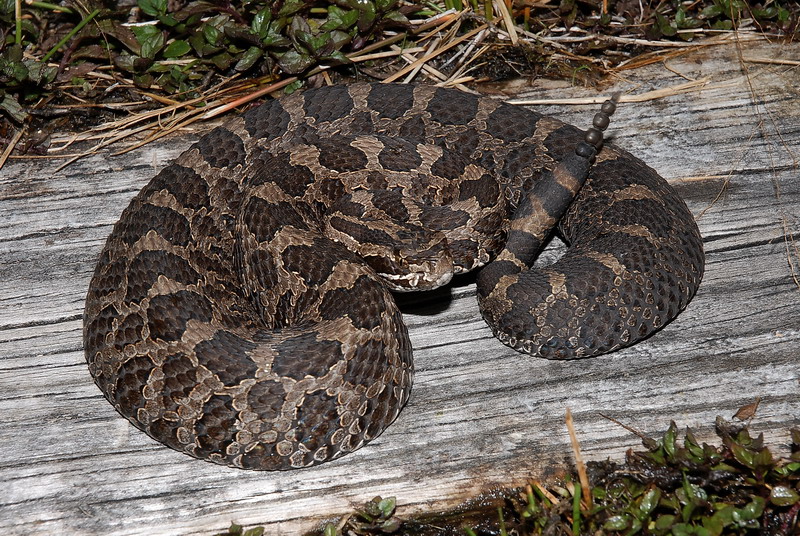 MEET THE SPEAKER:
As a herpetologist, teacher, and well-known author, Jeff Davis is a leading authority on our native Ohio frogs and toads, and is a noted expert on many Ohio species of herps, including the endangered eastern massasauga. Jeff is coordinator of the ODNR Division of Wildlife?s Frog and Toad Calling Count Survey, and spends many hours documenting frog populations, as well as other amphibians and reptiles, throughout the state of Ohio.
Jeff has authored or co-authored several well-known books, including:
- The Ohio Frog and Toad Atlas; and
- In Ohio?s Backyards: Frogs and Toads
More information on Jeff?s projects and the frog and toad calling survey can be found here: ohioamphibians.com