Calendar
January, 2007 Meeting: Jason Folt, Adventures from Snake Road
| | |
| --- | --- |
| Date: | January 3, 2007 |
| Time: | 7:00 PM |
| Location: | Cincinnati Nature Center, Rowe Woods, directions |
Jason Folt, "Adventures from Snake Road" (...continued below)
Jason stops to photograph "the bluffs" as he nears the promised land...Snake Road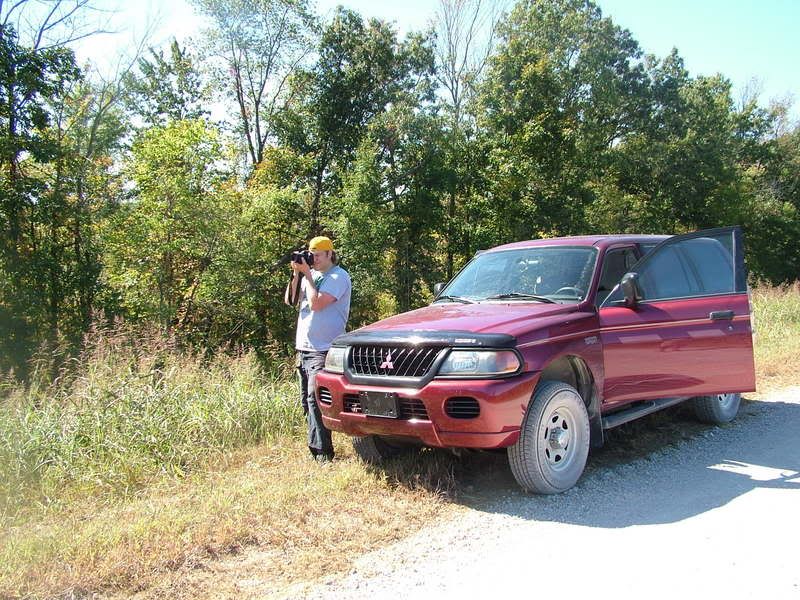 Jason Folt is quickly becoming known as the "field heping junkie" of the GCHS. Check out his website, dedecated to Ohio's native herps, here: Buckeye Herps. During the spring and fall of 2006, Jason packed up and took weekend trips to the legendary "Snake Road", in extreme southern Illinois. (...story continued below)
During the sping and fall, this region is known for large migrations of reptiles and amphibians. With good timing and a little luck many herp species can been observed in their natural environment as the migrate to or from thier winter refuge.
This is sure to be a very interesting talk. Jason was able to see and photograph many species this year, and he has a story that you won't want to miss. (trust me...and no hints)
Here, we see Jason's subject from the from the above photo on this page.
Snake Road is known for its large population of Western Cottonmouths. This animal was photographed during Jason's fall, 2006 visit
MEET THE SPEAKER:
Jason Folt grew up moving between Rochester, Michigan and Akron, Ohio, where his family now lives. He holds a degree in biological sciences/pre-medicine from Ohio University, and now attends the college of medicine here at UC.
Jason?s interest in herps started when he was very young. His dad was a birder and often took Jason and his brothers on hikes. During his nature outings, Jason became infatuated with snakes. He wanted one as a pet, but his mom (and I?m sure many of us can relate to this) was too afraid to allow it. He finally attained his first snake during his sophomore year in college and from there became obsessed. While in college, Carl Brune, a physics professor at OU and a local herper began teaching him herpetology. With the help of Dr. Scott Moody, he determined that there was interest for a herpetology club at OU and began the process of setting one up. Jason also assisted Dr. Moody with various projects and collecting locality data in the area. With Jason?s persuasion Dr. Moody started teaching the herpetology courses again and Jason took the classes. Jason has also assisted Jeff Davis with reptile and amphibian surveying in the Cincinnati and Dayton areas.
Today, Jason?s main interests include the conservation and life histories of the animals, and the opportunity to see them in the natural state. He has also and started to pick up photography through his interests in the herps. Recently, he has found a growing interest in venomous species and the effects of their toxins on humans, and hopes to tie his hobby into a future career.