Calendar
September, 2006 Meeting: Danna Baxley: Field Study of the Rare Black Pine Snake in Mississippi
| | |
| --- | --- |
| Date: | September 13, 2006 |
| Time: | 7:00 PM |
| Location: | Cincinnati Nature Center, Rowe Woods directions |
The black pine snake (Pituophis melanoleucus lodingi) is a colubrid snake historically endemic to longleaf pine forests ranging from southwestern Alabama to extreme eastern Louisiana. Many factors, including habitat loss, have contributed to the decline in numbers of this species. It is now a species of conservation concern. Conservation begins with knowledge.
Danna Baxley is conducting extensive field research on Black Pine Snakes in Mississippi. Her objectives include obtaining a better understanding of thermal ecology, habitat use patterns, and diet.
You may recall that in January, 2006, the GCHS approved an application for a grant from the Martin Memorial Fund to assist Danna in her work.
We are looking forward to seeing what she has learned about these incredble beasts!
Here, Danna tracks a black pine snake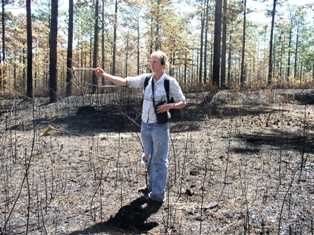 Danna holds an eastern coachwhip snake from her study site